Personalization has become a MUST in the email marketing field. It lets us offer each customer exactly what they want, better catering to their needs, which results in increased campaign efficiency.
Today we will talk about four criteria we can follow to personalize our emails. Take notes!
1 – Personalization based on declarative data
Before we go ahead, we should explain what "declarative data" means in order to understand how we can use it to personalize our emails. This data comes from the information declared by the user when they give us their email while registering: name, age, gender, interests and preferences, etc.
This type of information is often used for segmentation, but it can also be helpful in personalization. Here are some examples:
If the user gives their name when registering, we can use it to personalize the emails we send them. We can use it in the subject, preheader, and/or copy. When we add the user's name to the email, we give the impression of closeness, humanizing the communication and creating a proximity link between the user and the brand. It's a way of providing protagonism to the subscriber, letting them know this email is directed "exclusively" at them. Here are some examples of three companies using the subscriber's name in the subject line and how Logitravel uses it in the preheader.

This depends on whether our products or services can appeal to different age groups. That would be the case of the fashion and makeup industries. For example, if our fashion brand has several clothing lines, we could try to determine if any of them is better suited to a certain age range and, if so, design specific campaigns for that collection.
In the makeup industry, our customers' needs differ depending on, among other things, their age. There's little sense in sending a 20-year-old a campaign on anti-aging products, right? Hence, the importance of matching our campaigns to each customer's needs, in this case, taking into account the product line and user's age.
There's a visible tendency to segment campaigns according to the user's gender, as long as we are not commercializing unisex products/services. Typically, when it comes to gender, we tend more towards segmentation. But, if we stop to think about it, isn't segmentation a way of personalization? If your product allows this, you should design different campaigns for each gender to better adapt to their interests and needs.
User's interests and characteristics
Going back to the fashion and makeup industries, there are different ways of creating original personalizations according to the user's interests and characteristics. We could personalize our emails according to the subscriber's size, showing only items available in their size or, for example, if they indicate their fashion style or preferences when registering, we could personalize our emails with items that better reflect urban, formal, or classic looks. Likewise, we could personalize our emails according to the user's skin type (dry, mixed, or oily) with products specifically aimed at it.
2 – Personalization based on transactional data
Depending on the user's transactions, we could recommend them products matching their interests. This is where cross-selling would come into play, allowing us to recommend similar or complementary products to the ones purchased.
For example, if the customer recently purchased a shirt from your ecommerce platform, we could design a campaign displaying a matching blazer or show them different products to complete the look. Another example, if the user has bought a moisturizer for oily skin, we could send them an email with more products of the same line. The possibilities are endless! Here is an example from Bershka:

3 – Personalization based on behavioral data
As the name implies, this criterion is based on the user's behavior in our E-commerce. To do this, we must take into account data such as, for example, the viewing of certain products/services, recurring visits to specific categories or product lines, products saved on their wishlist or in their abandoned shopping cart, etcetera. If we gather all this information and use it correctly, we could end up with emails as creative as this one from Zalando, which uses behavioral data as well as transactional information.
4 – Personalization based on the user's Lifecycle stage
In this case, we need to identify the needs of the users in each stage and define what it is we want to achieve with each group. Do we simply want them to open the email? Do we want them to open AND interact with the email? Do we want them to make their first purchase? Or, for example, are we aiming to get them to purchase again after not doing so for a long time?
Whatever the objectives, once we have defined them, we can start developing specific emails for each stage. Reactivation emails are a good example; they are aimed at inactive users in the reactivation stage. Here is an example from Reebok: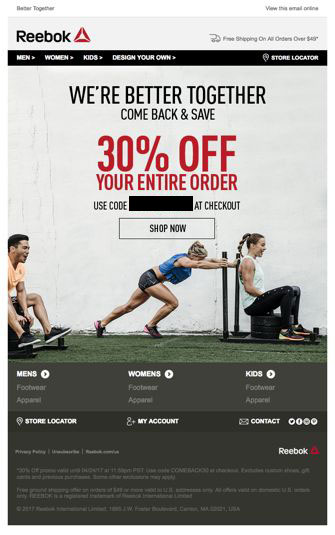 We can also create personalized campaigns for VIP users in the retention stage, giving them discounts or special offers or incentivizing new users to make their first purchases. Here are two examples: the first one (Hofmann) aimed at users in the acquisition stage and the second one (Baublebar) at users in the retention stage.
There is no need to use all four criteria at the same time in all your campaigns. What matters is identifying which one is better suited for your company and email marketing strategy and implementing it. So, what about you? Which criterion do you use? Which one do you think is more effective? If you had to implement one, which one would it be?