At some point, you have probably wondered when is the best time to send an email to your subscribers or which is the day in which you could get a higher open-rate. Yes, we have all run A/B tests and a thousand other analyses to try to reach some conclusions… but the truth is that not all users will coincide on an exact preferred time or date to receive and open an email. What could be an ideal moment for some could also be an annoying time for others. But this handicap can easily be overcome with the feature we will talk about today: the implementation of STO in your email campaigns.
STO (Send Time Optimization) is a feature offered by some email marketing and marketing automation platforms that allows us to send an email at the most effective time and date for each user by taking into account user behavioral data from previous campaigns.
How does it work?
In order to send an email using STO, you will need to start collecting behavioral data of your subscribers from the email campaigns sent. If your platform includes the STO feature, you will have no problem doing so. The process would be the following: For example, if we have data from a user, that user will receive an email at the best time and/or day for them. Otherwise (if we do not have any STO data from a specific user yet), they will receive the email at a default time and date.
What does the STO feature allow us to do?
Each tool that incorporates this feature will offer different STO programs. We highlight the following:
Basic STO program: It allows us to send the email at the best time for each user.
"Best day and best time" STO program: It allows us to send the email at the best time and day of the week for each user.
A/B Test STO program: It lets us implement an A/B Test to compare the results obtained from sending the email using STO vs. not using it. This helps us draw our own conclusions.
What are the benefits for our email marketing?
Having a user receive an email at their optimal time increases the probability of them opening it and interacting with it. In fact, given our experience with some clients who have started implementing STO in their campaigns, we can confirm that the campaigns' Open Rate increases considerably. What's more, it also helps reduce negative metrics, such as the Unsubscribe Rate. In this post by Oracle, we can see more detailed results via the example of one of their clients: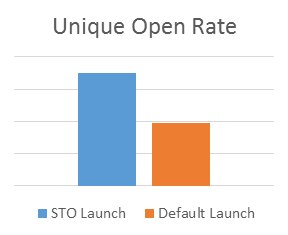 Using STO led to an 80% increase in Unique Opens compared to the results obtained from sending the same campaign without STO, that is, at a predetermined send time.
Using STO also led to a 34% decrease in bounces.
What platforms allow the implementation of STO in emails?
There are currently several different platforms in the market that incorporate this feature in email marketing campaigns: Oracle, Mailchimp, IBM, EPI Campaign, Sendiblue and, Emarsys are some of them.
We encourage you to check if the platform you are using to manage your email marketing has this feature and, if so, to use it.