We've already talked before about the importance of testing your emails to achieve the best results when it comes to open and click rates. Today, we're going to see which elements you can test and we'll give you 13 ideas for A/B tests to implement in your Email Marketing campaigns.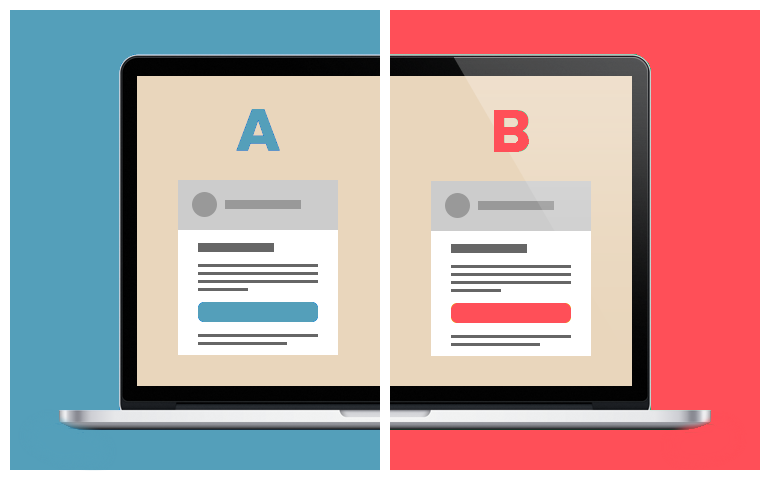 Before launching into the subject and to put things into context, let us remind you what the A/B test is and what it can allow you to do.
The A/B test allows you to send two variants of the same email to your subscribers, in such a way that half of your users will receive email "A" and the other half will receive email "B". It's really interesting because it allows you to see how your users react to each email and to learn which one will work best for future emails.
Now you've had this brief introduction, let's go on to comment on the examples in the A/B test that we find most noteworthy:
Subject
The subject is one of the most important elements when it comes to sending an email, given it's precisely the first thing that the user sees in relation to it. It's the thing that influences whether the email is opened or left unopened and for this reason, it can often cause a headache when it comes to you deciding what it should say. Which aspects do you want to test in the subject? Maybe you want to test how long it should be, if it's best to customise it and to put the name of the recipient or not, if it's affected by you using symbols or if, for example, it works better if you write the subject in the form of a question.
Pre header
The pre header is the text that accompanies the subject and complements it. It shouldn't be underestimated as a result and you have to afford it the appropriate value, as it helps you to provide more information about your email at a glance. When it comes to ideas that you can use for the A/B test in order to achieve better metrics with your Email Marketing, we should highlight the tone of your message, testing possible customisation (if you haven't done that in the subject) or, for example, trying to show offers and discounts.
Sender name
We're used to seeing the majority of businesses who use the brand name as the sender. But beyond this tradition, there are other possibilities that allow you to break with this trend. Do you fancy trying it out using an A/B test?
– Brand name: Digital Response
– Name of the person sending it + brand name: Pablo Díaz from Digital Response
– Brand name + slogan or brand description: Digital Response, Email Marketing Agency
– Brand name + subject: Digital Response latest news
– Brand name + team/identity/department: Digital Response Newsletter
Copy
The email copy is the element that allows you to deliver the message that you wish to communicate. That's why it can be tricky to achieve the best version sometimes. When it comes to the elements you can test, there is the tone, or rather, the brand language that you use to relate to your audience. Doing an A/B test will help you to analyse which tactics or strategies might work better. You can also test whether users respond better to a longer, explanatory text or a text that's briefer and more concise, thus testing its length.
Images
People say that a picture paints a thousand words and, in the case of email marketing, this phrase fits perfectly. The main image that you choose is the one that will make the first impression on the person who opens your email. In this instance, the A/B Test can help you to see which type of images prompt a better reaction from your subscribers: whether it's of people, products, a gif…the possibilities are endless.
Browsing
It's important that you find out the optimal type of browsing for implementing in your emails. Sometimes, if you give your users too many clickable options, this can be confusing and have a negative effect. This trend is growing in campaigns that seek conversion through a certain action. Test the browsability of your email and find the best option.
Call to Action
What is the ideal Call to Action? The reality is that it's all a mystery as it can work really well with one brand and then not work as well with others. There are many elements that you can test when making a good Call to Action: its position, size, colour, text and even the format.
Recommended products
Have you thought about adding recommended products to your email? Well, the A/B test will be your best ally for finding out the best way to implement this. You can test out how it works by adding a certain number of products, whether it's better to highlight the cheaper or more expensive ones (according to price), if it's preferable to decide on just one product category or whether it's better to customise the products based on the recipient's consumer profile.
Customised content
When we talk about customised content, we mean blocks of dynamic content that change based on the consumer profile. For example, you may show content categories or products that the consumer prefers, promotions that are offered to them based on their location and you may even show promotions and offers to a certain group of subscribers and to others, none. As a result, you can test whether you customise your content or not and, in the case that you choose to customise it, what type of content you display based on the consumer's tastes, interests and engagement. In this context, it can really help you to have the user's life cycle in place from the contacts who form part of your database.
Incentives
Are you wondering whether to offer one thing or another in your email campaign? The A/B test can solve your questions. Test which type of offers, promotions and discounts work best among your subscribers. Who know, you may discover that to retain the positioning of your brand, it's best that you don't offer any type of discount.
Here are a few ideas for incentives that you can test:
– Limited number of products on sale: "Tick tock, tick tock, we've only got 50 products at half price". This can help to create a sense of urgency when purchasing a product.
– Discount off their next purchase: "Get 20% off your next purchase". This helps to increase the likelihood of them making a future purchase.
– Offer pack: "Two perfumes for the price of one". This helps us to satisfy their need to save money.
– Free delivery. This also helps us to satisfy their need to save money.
Number of emails / Delivery day and time / Lead time
In this point we deal with 3 types of A/B Test that revolve around the time you send out your campaign. On the one hand, the number of emails to send and the lead time are two variables that are associated with automated emails. Doing an A/B test can help you to learn, for example, how many emails you should send after a person logs in to your page or how long you should wait before sending an email to a person who has abandoned their shopping cart. On the other hand, an A/B test that is often carried out is the time and day it is sent. For example: you could send an email to one group of subscribers first thing in the morning and to the other half, send one in the afternoon/evening. Alternatively, you could test if there is a day in the week where your users are most receptive to your communications.
 
Ultimately, it's really important that you try to test your campaigns with the help of A/B Testing. Not only will you achieve better Email Marketing metrics, but you'll also get to know your most prized asset better: your subscribers.